Dota 2 as a phenomenon in Poland
Dota 2 has never been particularly popular in Poland. When mentioning this country in the context of e-sports and recognizable players and teams, most people who are interested in gaming disciplines are more likely to call you the once-famous Virtus.pro CS: GO roster, but Dota rosters that have at least minimally shown themselves on the pro-scene are not observed. And Polish Dota 2 players are slightly less rare than Estonian ones.
But even with all these facts added up, Michal "Nisha" Jankowski and Dota 2 met. And this symbiosis over a long distance was a phenomenal success and brought us a new, original, and most importantly a very skillful player.
Early start
Michal first tried his hand at the team at the age of 13. According to him, in Dota 2 he began to play mostly because of his brother. Prior to this, Nisha preferred the more popular LoL in Poland. It was with his brother, Pzhemyslaw Supreme Jankowski, that they got into their first stack of Polish LetsDoIt players. After some time, this stack was signed by the German organization ALTERNATE aTTaX. Representatives had to fly from Germany to Poland to talk with the parents of a player who was 14 years old at the time of signing the contract.

Player – Swiss Knife
Nisha during his career as a player tried his hand at each of the roles in Dota 2. Initially, he was assigned the role of support, but later, in connection with changes in the composition, he "moved" to a difficult line. Later Michal will try his hand both on the mid and on the light line, on which he will continue to play until the present moment. Repeatedly, his teammates emphasized the player's love for "beating creeps".
Home-to-home wanderings
On April 1, 2017, ALTERNATE aTTaX announces the dissolution of the Dota squad and players return to their old LetsDoIt tag, but only for a couple of days. Already on May 2, the team signs the organization Team singularity, and although the team showed good results for its level (victory at ProDotA Cup Europe # 18 and ProDotA Cup Europe # 20) on August 20, the organization abandons this composition. Players will again return the LetsDoIt tag.
Organization pays attention to players Kinguin and on September 15 sign this composition. Under this tag, the team shows good results, going through qualifications on Dota Summit 8 and taking 3-4 place on it. And then they were able to go to their first major tournament ESL One Katowice 2018 and take 9-12 place, losing Evil geniuses.
But on this, the successes of the team went into decline, and after losing in European qualifications to The international 2018 the organization closes the composition in this discipline.
But Nisha did not go unnoticed by other players and organizations, although it did not appear so often in major tournaments and events. At the end of the main tournament in the year The International 2018, there are naturally changes in players in teams, whole rosters change, new teams break up and create Team secret was no exception. On September 5, the team said goodbye to their offline player Adrian "Fata-" Trinks and a carry player Marcus "Ace" Helgard, and on September 11, she announced a new roster for the 2018 19 DPC season, which included "Zai" and "Nisha", respectively. And if the transition Ludwig "Zai" Wahlberg didn't cause much surprise and excitement in the community, then many players and fans were openly happy for Nisha. Michal already showed excellent game results at that time, and with a competent mentor in the person of Clement Puppey Ivanov, the strength of this player increased at times.
Already at that time, Michal had no problems with his personal gaming performance. 3 of his accounts have long been in the top 15 of the European ranking.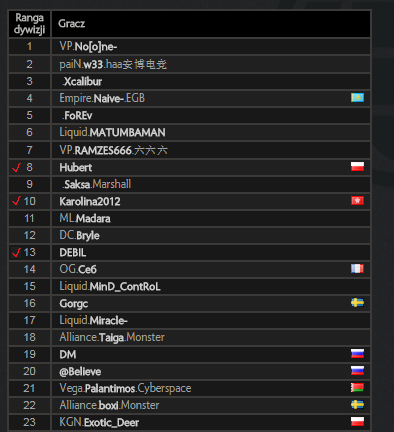 Was the game worth the candle?
The DPC season is coming to an end and it's quite reasonable to summarize Clement's faith in Nisha, which the team identified in first place a little less than a year ago. But sometimes even the most skillful player may not fit into the team: do not fit in the game style, do not converge in the mental plane. Such examples on the pro-scene are enough to doubt the Polish player of the shooting range 2, who is invited to one of the strongest Dota 2 teams at the moment.
But now, when all the majors, minors and other tournaments are behind, we can safely say that Puppey did not lose! For the entire DPC season, Team Secret only 4 times did not reach the podium. Of the 5 major tournaments, the team took 2 gold and 1 silver into their piggy bank, dropping below third place only by DreamLeague Season 11(4th place) and EPICENTER Major 2019(9-12 place)
Michal "Nisha" Jankowski regularly delights fans by appearing in the highlights of various tournaments; he has also been nominated for the Polish Esports Awards in the "Player of the Year" category. Many professional players call him one of the most successful and promising carry players at the moment, and the statistics of his games for Team Secret fully confirm this (on average, Nisha GPM bypasses such giants of the first position as Romanza RAMZEs666 Kushnaryov, Wang Ame Chunyu and Arthur Arteezy Babaev)