At the initial stages in the FIFA Ultimate Team, the question always arises of who to put in the squad with limited finances. I don't want to spend a lot of coins, because the price of players is unstable, and EA can always release "tuned monsters". That is why the ODDS portal advises taking a closer look at Levant striker Jose Luis Morales.
General Morales features in FIFA 20:
rating – 7/10;

speed – 9/10;

dribbling – 8.5 / 10;

hit – 8/10;

pass – 7/10.
Morales is an iconic figure for Levante. For the Valencians, he spent about 300 matches and earned the nickname "El Comandante." At the same time, he managed to play a couple of years for the second club team.
Back to FIFA. Previously, when it was necessary to put together a squad in haste, everyone took the Spanish League as the basis, since market prices for the Premier League players were too high. Fortunately, in the Example there are enough quality football players. The choice of striker was only between Rodrigo from "Valencia" and Inaki Williams from "Athletics". This season, Morales has also added to this pair, which is even better.
Morales is perfectly balanced. If Rodrigo constantly smears from slaughter positions, then El Comandante is quite a bastard, fast and quirky. In this he is helped by anthropometric data and four stars of skills. Do not forget about its speed (89) and dribbling (85). If we compare Morales with Williams, then the latter has two stars on a broken leg – that's it. Well, the balance parameters (84 vs. 64) also give a completely adequate answer, who is better.
Influence
At the start of the game, when almost no one has top teams, Morales is a great solution. He almost misses from killer distances and can run away. With the "Hunter" teamwork style, the Spaniard turns into a meth monster. This is especially true for the lucky ones to whom he fell out of the packs, because until now he is a killer player to perform Icon Swaps UBC.
The Spaniard could not go unnoticed by the developers who released the version of Player Moments. It turned out to be an absolutely top forward.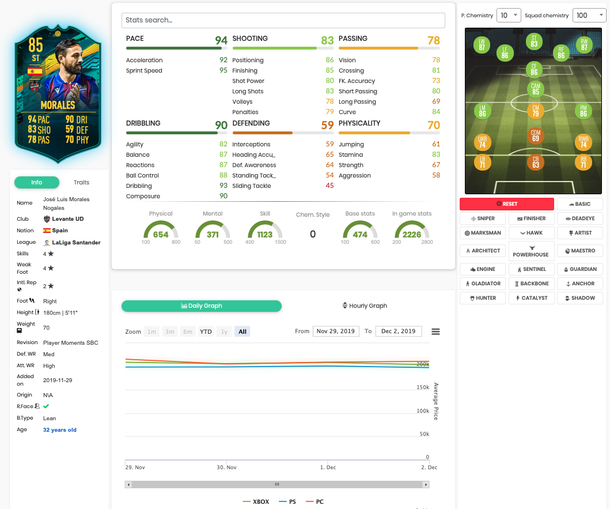 Of the minuses, only a weak game on the second floor can be noted. Leap (61) and heading accuracy (64) are simply unsuitable. Strength does not look the best either (67). He obviously cannot push, but this is not required of him. This is a tech player who can go dribbling or just run away.
Market value
Now Morales costs 1.3-1.6 thousand coins – these are not the 15 thousand that were at the start of the game. For those who have just started a career in FUT, the Spaniard is a profitable investment. It makes no sense to others to take it. But if the player drops out of the pack, then it is worth leaving him, because he will help in obtaining tokens for assembling idols.

Total
Absolutely top-end card in terms of price – quality. Morales is many times better than other budget hitters of the Spanish Examples and can even compete with Luis Suarez. Due to the speed and maneuverability, the Spaniard is able to create moments.
If you just started playing FUT and do not want to spend a huge amount of coins on a nuclear submarine, then this is your choice. Especially now, when developers improve the quality of the connection: players with good dribbling get a chance to show their best.