Studio staff Blizzard announced that they had made the decision to change the name of one of the competitive shooter characters Overwatch… The corresponding statement was published on social networks.
Cowboy rebranding Jesse McCree… In the real life Jesse McCree is a former lead designer Diablo ivwho appeared in the California harassment case against the publisher Activision Bliizard…
Blizzard plans to release a new story arc and in-game content in 2021 that focuses on McCree's rebranding. The studio also no longer allows them to name their game characters after the developers.
Note that the release date Overwatch 2 still not disclosed.
Previously, Blizzard removed from World of warcraft all references related to the former creative director of MMO Alex Afrasiabi, who is called the leader of the so-called "Cosby team". And from the promotional materials of the game Call of Duty: Vanguard no mention of Activision Blizzard itself.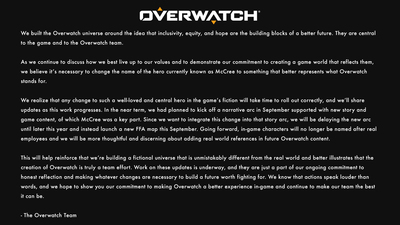 See also: Team Cosby and its "cockerels": The scandal around Blizzard is gaining momentum