RAMZEs and offline
How to change roles and become better
Before the start of the new DPC season Roman RAMZEs Kushnaryov returned to offline, the position with which he began to speak on the professional stage.
During vacation Pavel 9pasha Hvastunov in Virtus.pro exactly RAMZEs replaced him in the top three, while in many matches he did it so "greedily" that Rostislav fn Lozova Kerry often found himself lower than his off-line for networking, which broke the usual farm distribution scheme in the team. It is not to say that its effectiveness in the top three was commensurate with the farm.
Moreover, before moving to Evil geniuses Roman's English was so-so, although it had already moved from the point of "I don't understand you" from the time of the Summit. In short, many believed that he will need at least several months of training with the composition just to adapt.
That's just the first full major for the new composition Evil geniuses (before the quarter of this major, the team almost did not live and did not play together), RAMZEs showed that now it is, if not the best offline player in the world, then definitely one of the best. There are three explanations for such a quick adaptation and such an effective game:
RAMZEs already played offline, but in the first period of the game it was a completely different line, and the second time this practice was temporary in nature and was not on the strongest qualifications of the CIS. So he still has some experience playing this role.
IN

Virtus.pro

Roman RAMZEs Kushnaryov

was a coordinator, which means he understands very well what exactly each hero needs to do on the map. Troika is now the team's main front-liner, and in mid-game it's also the team's main playmaker. So the presence of a thinking and coordinating triple in the team gives much more meaningfulness in team actions.
In my opinion, it is this reason that is fundamental to a successful change of role. Aggression. RAMZEs Kerry performed in a fairly aggressive style and knew exactly when to start pushing an opponent and whether it was worth "diving" deep into half of the opponent at the moment (we all remember the fight under T3

Natus vincere

in the Adrenaline League). At the same time, he was often not afraid to bargain if he realized that this would bring more benefit to the team. By the way, this aspect is currently lacking in the game

Virtus.pro

and aggression is lacking now Resolut1on'like an offline player.
Now it's time to back up everything written above with evidence, which means that next comes the analysis of three cards from Major.
1 Map Evil geniuses – Team secret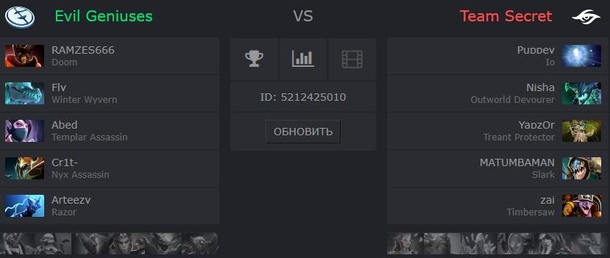 At the peak, there are 3 potential targets for the Duma, but OD stands out too brightly, which, when muffled, turns into a fat creep. At the same time, Slark and Timber have support with very good control (Karapasy alone is extremely dangerous against this peak).
But with the line for the Duma, everything is much worse. Timber is the worst 1 on 1 matchup for any siloviki.
Of the line options we have:
3-1-1.
Doom + Nyx – Slark + Io. Such an arrangement will provide an excellent line for Razor, which is very good against any melee, but

Team secret

unlikely to agree with such lines.
Doom + Nyx – Timber + Trent. Here you can simply wish good luck to the Duma and Nyx on the first three levels, so this arrangement will not suit you already

Evil geniuses

.
As a result, the teams got up 3-1-1 and Timber received a Doom roll in his solo line. The main thing for RAMZEs'and now live to level 3 and not far behind in experience and gold from Timber, as well as not die 1 by 1. This will allow you to go between levels T2 and T3 at level 3 at the expense of Earth at 2.
2:20. RAMZEs not much behind creeps and very little in level by the time you get your 3 level. So now nothing prevents him from farming double packs of creeps at the expense of 2 skills (cd skill 45 sec., Creeps every 30 sec., Due to regen from 1 skill you can keep a pack of creeps on yourself). A since support Team secret busy then doom gets freefarm.
The result of this movement was swap lines when Team secret swap Timber and Slark, Doom is drawn to Timber, and the lines become double. No swap lines Evil geniuses got a stable fram on all the barks, but here Slark after freepharm with Io is too strong a hero, which means such lines do not suit Evil geniuses, so they, too, swapped.
Slark and Io got the level, which means they can already stand up against the double with Razor. Doom can stand 1 in 2 against Timber and Trent, so Cr1t- stays free and can help Abed'at the center.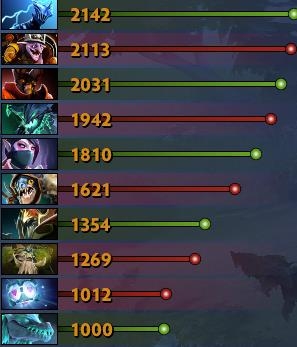 Absolutely negative matchup, but at 5 minutes the nettrees of the triples are equal, and Razor bypasses Slark by 600 gold.
At the 6th level, the Ult Duma does not need it at all, because the buildup is 3-3-0-0, which allows the line to stand as efficiently as possible in gold and experience.
6:10 a.m. Maximum aggression. Earth at 3 (45 damage per second), regen 25 per second. RAMZEs She is not afraid of anything and goes under T2, where she takes 2 hens (45 + 35 = 80) and Yapzor'a. zai punishes him for this, but in general terms, such a dive turned out to be very effective.
By the 9th minute RAMZEs again sacrifices his comfort on the line and moves to the top line to Slark, who is already driving Arteezy off the line.
12 minutes and Doom overtakes Timber by 1200. This advantage is obtained due to 1 skill. The game goes for 720 seconds, Devour cd at all levels of 70 seconds, taking into account the moment the creeps meet, we get that RAMZEs could maximize skill 9 times. Most of the time, the skill was pumped into 2, but with a margin we take 100 gold per click and we get 900 gold net plus gold for the creeps themselves. We have that with a counter peak on the line RAMZEs received the same amount of gold with greater efficiency on the map than Timber.
18:15. Evil geniuses catch Team secret on a mistake. MATUMBAMAN and Yapzor should have turned around and left immediately as the Duma flew up the BKB. Team secret they don't see the rest of the enemy's heroes, but continue to move forward in 5 heroes, while Io's ult will soon end and the three of them will remain, while they don't have time to kill Doom or Nyx before Io's departure. Abed fits on time and RAMZEs at the expense of a 10-second BKB makes a difference in a fight, turning off Trent, and after that he catches OD (Nyx perfectly caught him in Karapas after the astral plane) in DoomTimber flies perfectly to the camp all the same Duma. RAMZEs MVP of this fight as well Evil geniuses get free Roshan. Looking ahead, it was this fight that won the card for Evil geniuses.
34:30. Slark first enters the fray, but RAMZEs holds his Ult until the appearance of OD in a fight, as the only one who has enough damage to kill heroes Evil geniuses. As soon as OD is a bit substituted, Doom from Blink immediately gives his Ult to it. Actually, OD gave exactly 0 Ults per card, largely due to the good game of Doom.
0 mistakes in fights, third position Evil geniuses completely turned off the second position and the main dealer demage Team secret. Plus, with a terrible matchup, Doom not only did not fail the lining stage, but also helped Razor defend the line as comfortably as possible.
3 Map Evil geniuses – Vici gaming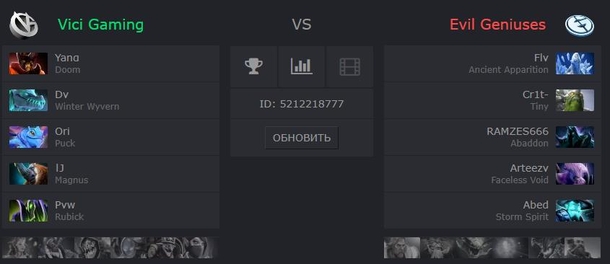 Evil geniuses they want to send a triple with their Void, leaving Abaddon alone. The salt is that triple for Vici gaming makes no sense, Doom will receive his farm in a double, and Magnus, together with Rubik, can RAMZEs'but from the farm. Plus, Magnus, at the expense of the Empower, will be able to deny all creeps, which will deprive Abaddon of a possible advantage in the experience. This arrangement of lines indicates that at 3-4 minutes the center line will be very hot and even a 2-2 line is possible.
Even if Abaddon somehow gets his high level, the hero himself does not have any control or the ability to do a lot of damage, so this situation will also suit Vici gaming. On the 2:30 for Magnus 12/6 at 6/0 for the creeps of Abaddon, while RAMZEs forced to constantly bring himself regen on the line. Doom is 200 coins ahead of Void. Now very important for Abaddon not to lose his courier, it will be tantamount to a loss of regen on the line and any chance of getting at least some gold before it is reborn.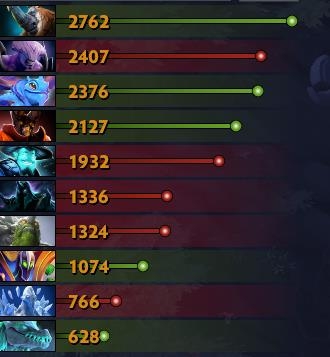 By 6 minutes at Vici gaming there is a small advantage that they are going to realize on two lines at once. Pak moves to the bottom line and kills Void through Ult. From above, Rubik finally makes a useful move and Vici gaming catch RAMZEsand when he has no mana on the Shield.
Immediately after Feyzov Vladimir begins to collect, which together with the passive will give excellent push potential both for the team and separately for Abaddon. After 10 minutes when RAMZEs received the Basilica and Buckler, he slowly begins to clear the lines in order of importance T1 towers (bottom-center-top). Vladimir arrives at 16:21, which, considering the line, is not bad, but globally sensitive. Around the same time, Blink came to Tini, so now Evil geniuses the first peak of strength comes.
17:10. Abaddon has an ult, and HP is on the verge of its activation. So that RAMZEs is close to Void (the main goal of the RP), which will allow him to immediately leave the camp and save Arteezy dispel. This is what happens, and Void dies only after the redemption of the Duma and its ultimatum. Magnus lacked only 300 gold before the BKB, which, at least, would save him in this fight.
18:42. And now an example of exchange. RAMZEs could calmly get out of a fight where there is no Void, and Magnus has the BKB ready. Instead, he clung to Magnus and translated the focus of the heroes Vici gaming on yourself, which allowed the rest of the team to leave.
Further RAMZEs He didn't go out with his team in tuxedos and did not run through the forest in search of enemy heroes. He perfectly understood the push-potential of his hero with Vladimir, and therefore he tilt T1 in the center, and after that he set about T2 in the same place. He finished the map with 7700 damage to buildings, which is almost 2 times more than 2 places in this indicator (Log in from 3900).
22:45. Abaddon One Reveal Vici gamingwho attack the full Abaddon. He has Ult and Paypa ready, so he lives very well and takes the Chinese directly to an impromptu trap. Further no comment.

Wherein this is definitely not a conceived byte, but just a fortunate coincidence that the heroes Evil geniuses were in such positions that managed to the river. Arteezy it's obviously not going along the optimal route to the river, but rather it's going to farm creeps in a small triangle (9 seconds before the spawn) and turns a few seconds after the attack on Abaddon. But here is the fact that all 4 heroes Evil geniuses almost instantly, it was no longer luck, but very quick and competent decision making, which won the fight.
Kuala Lumpur Major Quals With Virtus.pro
I talked about 3 cards from Major, but did not mention which one. So now I think it's right to consider the map of times Virtus.prowhen RAMZEs temporarily replaced 9pasha'at 3 positions, but first a little about his game on the top three on those skills in general.
Heroes on whom Roman RAMZEs Kushnaryov played qualifying for the Major in Kuala Lumpur:
Magnus 2/2 100%
Broom 0/1 0%
Enigma 2/3 66%
Phoenix 1/1 100%
Teeny 1/1 100%
Gyro 2/2 100%
In this roflofinal with ferzee (bud. Gambit esports) is not taken into account here.
Here you can immediately notice that on offline playmaker RAMZEs performed only once (Teeny), he played all the other cards either on Kerry (Nun in the center played the top three on farm), or on utility offline which required team artifacts and pressing 1-2 abilities in a fight.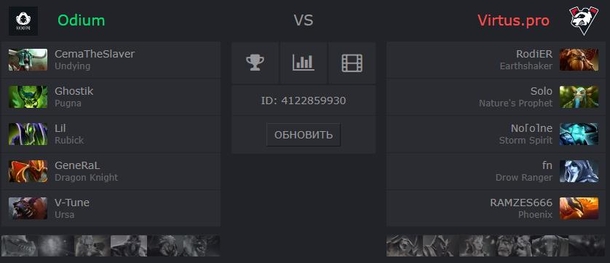 Yes, part of the Phoenix can also be called an offline playmaker, but it was in that map that the game was made No[o]ne and Rodjer. Moreover, Rodjer was as cool as possible on that map and each of his squeezing skill on the line brought visible benefits, and the three packs of creeps brought out under the tower literally saved the lining RAMZEs'a.
In the usual position of Kerry, 100% win rate and nothing special except the conditional triple in the center are there (at least as part of this article).
Initially, I allocated two cards for myself from these blocks:
2 card against

Odium

because of the phoenix.
3 map 1 games with

Team spirit

.
The first option disappears, because in actions RAMZEs'and there simply is nothing to disassemble. At Odium frankly bad peak, and by 25 minutes an advantage Virtus.pro was around 11k and Odium there was almost no chance of a comeback with such a set of heroes.
And here is a game with Team spirit in terms of parsing is already much more interesting.
1 Game 3 Map Virtus.pro – Team spirit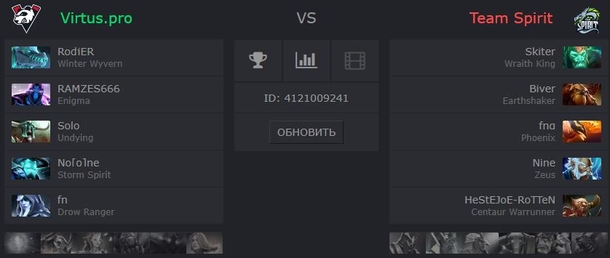 Peaks disassemble I see no reason for two reasons:
I'm too damn lazy.
This card is over a year old.
I can only say that Enigma first 4 minutes will have to stand 1 in 2 against the Centaur and Shaker. The original Centaur – Enigma lineup is more likely in favor of the latter due to the ability to freely denominate full range creeps and harass from Eidalons, but with such a start, the Centaur should feel as confident as possible even when Shaker leaves the line.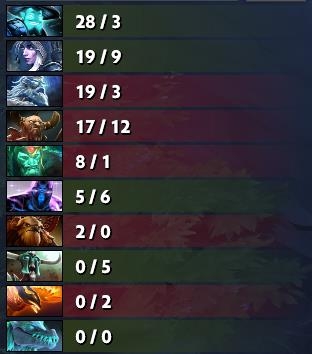 4 a minute, Shaker left the line, and Wyvern came to the aid of Enigma. Despite the line 1 in 2, RAMZEs half the level behind the Centaur. In other words, the situation on the line is very bad, and lagging behind HesteJoe-RottenAnd already about 700 gold. Rodjer will leave the line in 2 minutes, when the backlog will be the same 700 gold and half the level. And from this moment begins Enigma's cabmec to the game.
9:33 a.m. The centaur enters the line and receives BH, but due to the fact that RAMZEs not yet pumped 3 skill damage is not enough and Kent leaves. But here Enigma already leads to 200 gold in the farm and opens an account for demolished towers.
13:10. Absolutely incomprehensible spree, for Team spirit there was no longer initiation to catch up No[o]ne'a. RAMZEs just goes to the rune, throws 1 skill, and then substitutes for 4 heroes Team spirit.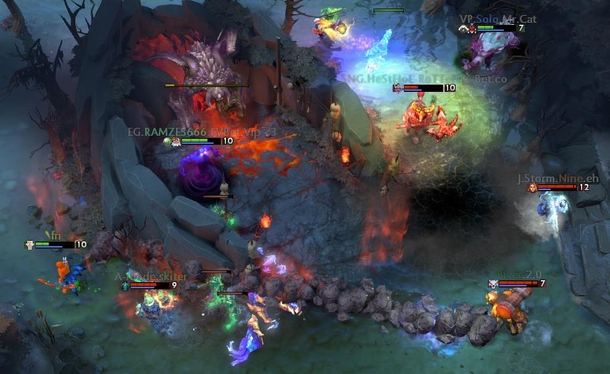 15:20. Fight on Roshan. RAMZEs in Roshpit and the choice can give BH in the Centaur or VK. Fissure and 1 skill of Zeus in CD, so that Ult will stand for 4 seconds exactly, which will allow him to kill VK without reincarnation. Ult does not give, but simply remains in the roshpit, where he dies under focus.
18:15. Minus T2 on top. Rodjer intercepts 4 heroes Team spiritthat wins time RAMZEs'u and that along with illusions fn'but demolishes the tower. Tower falls on 18:40. 2 tower on the account of Enigma.
20:30. Again the top line. Team spirit Smokey live when Enigma is already at T3. As a result, minus T3 tower and smokey to nowhere. Very good movie RAMZEs'and amid very bad from Fng. In a minute Virtus.pro nevertheless they are greedy and will want to splash the huts as well, imposing a fight in the center, but Team spirit were ready for this and caught Enigma.
28:10. Minus T1 tower from the bottom, is the fourth. On the 28:43 minus T2 there, the fifth tower. Up to 30 minutes Roman RAMZEs Kushnaryov pulled out almost all the towers on the side lines.
28:38. And here is a very good byte. Piped Pipe, as it were already said Team spiritwhat about their review Virtus.pro know and deliberately substitute Enigma, but they still led and themselves destroyed their position. The author of this idea is handsome (judging by the drawings on the map it was Solo) In fact, it was this fight that won the game for Virtus.pro.
Total per card:
Sam demolished 5 towers on the map, including one T3 in 20 minutes. He took part in the demolition of all buildings on the map and scored 12300 damage to buildings.
Very good macro-movements on the map, was caught only 1 time on the line with a very brazen split push.
The position and decision-making in the fight was sometimes either erroneous or belated (with 1 death on the top they could have killed Phoenix if they immediately started to beat the egg).
Based on the results of this card, we can conclude that we have enough aggressive and thinking offline player, but with a lack of experience, which affects the speed of decision-making in fights and the initial position. So yes, the main problem then really was a lack of experience.
Total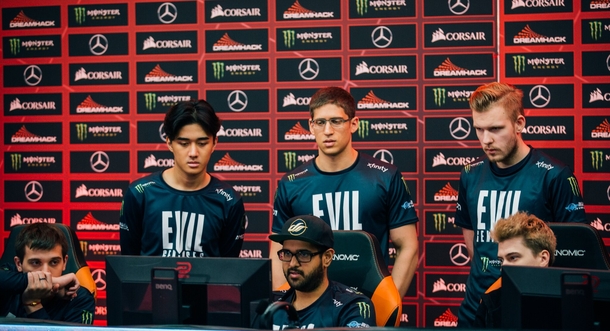 Now in the composition Evil geniuses plays exactly one of the best offline players in the world, who has proved that he is ready to quickly adapt to a new environment and partly new role for himself. Moreover, I would say that among aggressive offline players (approx. kpii, 9pasha, Yang) RAMZEs currently the best due to the magnificent macro-movements and the pool of heroes (I remember an adequate Lycanthrope at 3 positions only from Neta 33 Shapira, and Bruda is still in the game). It may be too early to say now, but it's very likely that RAMZEs'but it turned out that which did not work out SumailAnd, another very aggressive player, he was able to successfully and fully change his playing role, largely due to the fusion of his aggression with an understanding of the "movement" of the game. By the way Og didn't say which position would play Sumailcoupled with rumors about Midone'and this may mean that maybe we will see him again offline.
With the new patch, the role of the bounty runes on the map will clearly increase (withdrawal of talents for gold for support), which means that the number of fights on these runes will increase, which will require competent macro solutions from teams. Outposts now stand in much more protected places (2 hauling points from T2 towers), which means it will become harder to get an advantage at their expense. Whoever can take control of 2 outposts at a multiple of 10 minutes will now receive an even greater advantage due to the ready bridgehead in the enemy forest for attacking these T2 towers, so
with an aggressive playing style for 15-20 minutes it will become easier to zone the enemy from the farm.
And since the first 15-30 minutes offlane players will still be the main regulators of the pace of the team, their role in the success of the team should increase. In this situation, teams that propagandize aggressive or "squeezing" (gradual ousting of the enemy from the farm by expanding their area of ​​control) are able to gain an advantage. So in the new patch we can well see how Arteezy wins its first Major, and even not from the network of losers.